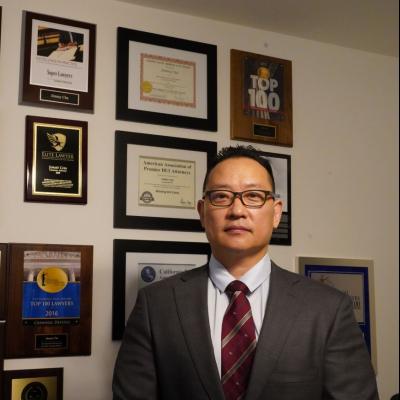 Jimmy Cha
About Jimmy Cha
---
Practice Areas
Criminal Defense, Aggravated Speeding, Domestic Violence, Drug Crime, Marijuana, DUI / DWI, Driver's License Reinstatement, Extreme DUI, Felony DUI, Expungement, Sex Crime, CDL Violations, Retail Theft, Burglary, Violent Crimes, White Collar Crimes, Juvenile Law, Weapon Charges, Internet and Cyber Crimes
Main Office
Law Office of Jimmy Cha, APC
126 N. Euclid Street
Fullerton, CA 92832
Phone: 714-676-5451
Fax: 888-315-7313
About Jimmy Cha
Attorney Jimmy Cha is the founding member of the Law Office of Jimmy Cha located in Fullerton, California. Jimmy Cha's practice is solely dedicated to criminal defense. Jimmy's criminal law background, and experience in the field provides him with a unique point of view of the criminal system that allows him to more appropriately advocate on behalf of his clients. He truly believes that good people often times make bad choices and/or decisions in life, and that everyone is entitled to good representation.
Jimmy graduated from law school with a certificate in criminal law studies, and has only defended those accused of committing a crime. With over a decade of criminal defense experience, he knows when a case should go to trial or should settle. For most people, it will be their first time getting in trouble. It can be a very confusing time. Jimmy will take the time to help explain the process, what to expect, and the options available to them.
People should know their rights. That is why Jimmy offers free consultations on criminal matters.Don't just call any lawyer when facing criminal allegations, call Jimmy Cha, your Fullerton Criminal Defense Lawyer.
Education
University Of California, Los Angeles, B.A.-2004
Western State University College of Law, J.D.-2007