Elite Lawyer Products
Attorneys who have been recognized with the Elite Lawyer award have demonstrated that they have the dedication, experience, and reputation their clients need. Only attorneys who meet or exceed our demanding criteria will receive the award and be included in the Elite Lawyer directory, and those who have been named an Elite Lawyer should be proud of their achievement. We have a variety of Elite Lawyer products that will help you demonstrate this prestigious honor.
Whether you are looking to highlight the Elite Lawyer award on your website or other marketing materials, share your status as an Elite Lawyer in press releases or on social media, or display an eye-catching reminder of your achievement in your office, we offer the products that will meet your needs. If you have any questions about any of our products, please contact us.
Add the Elite Lawyer Badge to Your Website
After you have claimed your Elite Lawyer profile, you can download the HTML code for your customized Elite Lawyer badge, which includes your name, the year, and your primary practice area. This code can be used to quickly and easily display the Elite Lawyer badge on your website. Log in to your profile to download your badge.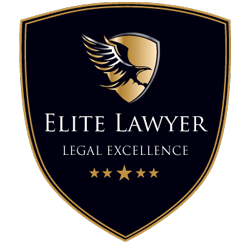 Attorney Profile
---
Your profile in the Elite Lawyer directory provides helpful information to prospective clients, including your photo, biography, practice areas, and client reviews.

Press Releases
---
Customized press releases can be used to announce that you have won the prestigious Elite Lawyer award.

Profile Reprint
---
Professionally-printed copies of your Elite Lawyer profile can be used to provide your current and prospective clients with information about you and your firm.

Elite Lawyer Badge
---
Highlight your Elite Lawyer award through a customized badge to display on your website, social media, or marketing materials.

Recognition Video
---
Demonstrate your achievement in a creative, dynamic manner through a customized video that includes your photo, your Elite Lawyer badge, and your firm's contact information.

Presentation Folder
---
These attractive folders can be used to remind your clients or colleagues of your recognition as an Elite Lawyer.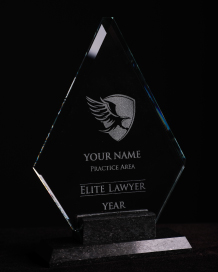 Trophy
---
Display your recognition as an Elite Lawyer with this eye-catching reminder of your accomplishments. The stylish, customized crystal trophy will include your name, your main practice area, and the year in which you were recognized as an Elite Lawyer.
Laser Engraved Glass
Marble Base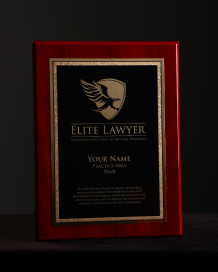 Plaque
---
Keep a visual and physical recognition of your achievement through a striking plaque which lists your name, your main practice area, the year in which you received the award, and a description of the prestige that the Elite Lawyer award provides.