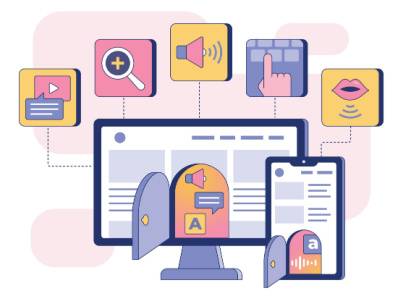 In today's digital age, having a strong online presence is crucial for businesses in all industries, including law firms. With the majority of people relying on the internet to search for products and services, it is essential that attorney websites are not only informative and visually appealing but also accessible to everyone.
Accessibility ensures that a website can be easily accessed and navigated by people with disabilities or impairments. By making sure their website is accessible, an attorney can not only expand their audience and reach people with disabilities, but they can also avoid potential legal issues. Compliance with the applicable laws can ensure that a firm will be able to avoid potential penalties, and accessibility can also make sure a site will be found in online searches performed by people in all demographic categories.
Why Is Website Accessibility Important?
Website accessibility does not just consist of meeting legal requirements. It is about providing equal opportunities and inclusivity to everyone who visits a website. By ensuring that a website is accessible, a firm can open doors to potential clients who may have disabilities or impairments that make traditional forms of communication challenging.
There are various laws applicable to website accessibility that have been put in place by the federal government of the United States. One such law is the Americans with Disabilities Act (ADA). While this law was initially designed primarily for physical spaces like buildings and facilities, ADA regulations have been expanded to apply to websites as well. Failure to ensure that a website complies with the ADA could lead to potential legal issues including lawsuits against a law firm.
Accessibility Features to Include in a Website
To make a website accessible, an attorney must incorporate certain features into the site's design:
Selective uses of colors: Some people may have vision-related issues such as color blindness or low vision. Making sure there is a high contrast between text and background colors helps these users read content without difficulty.

Alt tags: Including alternative text descriptions on images allows people with visual impairments who use screen readers to understand what images represent.

Keyboard navigation support: Some people may not be able to use a mouse, and they may instead rely on a keyboard or other assistive technologies to navigate through websites. Ensuring that a website can be easily navigated using only the keyboard is crucial for accessibility.

Captions and transcripts: Providing transcripts of audio and video content can help assist users who are deaf or hard-of-hearing understand the information being conveyed. Captions on images can also ensure that people with visual impairments understand what is being displayed.

Well-structured content: The way text and other content is presented on website pages can ensure that people with disabilities will be able to navigate through a site and understand the information provided. Using the proper structure for headings, bullet points, tables, forms, and other elements can ensure that everyone will be able to use a website correctly.
Creating an Accessible Website
Website accessibility plays a critical role in serving potential clients who have disabilities or impairments. By creating an accessible website, a law firm will not only maintain ADA compliance, but it can demonstrate inclusivity and empathy toward everyone who visits the site. Prioritizing accessibility fosters trust, expands a firm's reach among diverse communities, and enhances an attorney's overall reputation as someone who values equal opportunities for everyone.
At Elite Lawyer, we work to help attorneys and law firms demonstrate excellence in the legal field. If you have questions about how to ensure that your website meets all accessibility requirements, or if you want to know more about how the Elite Lawyer award can be used to promote your firm, contact us at (630) 635-8000.