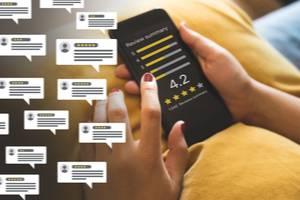 Today, it seems like nearly everything people do creates a digital record. In many cases, this is intentional, such as when a person posts updates on social media. However, multiple other types of information about people's activities are stored online, such as the purchases they make, the locations they visit, and the websites they use. While online information about most people may not have a significant effect on how they are perceived by others, this issue can be much more consequential for people in certain professions. Attorneys, in particular, can face a great deal of scrutiny, and their online reputation can play a role in the types of cases they take and the clients they serve. To ensure that they are able to maintain professionalism and demonstrate the value they can provide to their clients, lawyers will want to understand their options regarding reputation management.
Addressing Positive and Negative Online Reviews
Currently, many people rely on online reviews when they are researching businesses and service providers, including law firms. Customers or clients may leave reviews on multiple websites, such as Google, Yelp, and Yahoo, along with ratings of between one and five stars. The average rating a law firm has received may appear alongside search results for those who are searching for an attorney. This can often be a key deciding factor for potential clients, affecting whether they choose to visit a law firm's website or contact a lawyer for help with legal issues.
Online reviews can be a key aspect of search engine optimization (SEO) for a law firm, and attorneys will want to receive as many positive reviews as possible. A high average rating and reviews from clients that describe the benefits an attorney provides to their clients will encourage people to work with them. Unfortunately, this means that negative reviews and low ratings can also have a significant effect on an attorney's reputation and SEO.
In some cases, a law firm may be able to have negative reviews removed. Since Google and other sites state that reviews must be left by a business's actual clients, a review may be taken down if an attorney can show it was left by someone other than a client. Reviews may also be removed if they violate a site's standards, such as by using profane language or linking to a competitor. If a review cannot be removed, other strategies may be used, such as encouraging clients to leave positive reviews that will increase a firm's average rating or contacting a person, addressing their concerns, and asking them to change or remove a negative review.
Highlighting Positive Reviews on an Attorney Directory
One way that lawyers can build a positive reputation is through reputable online directories such as Elite Lawyer. To be listed in the Elite Lawyer directory, an attorney must meet certain standards and demonstrate high levels of achievement and excellence. Depending on your profile plan, your Elite Lawyer profile can include a feed of positive reviews left by your clients, which can further demonstrate the value you can provide to people who need your help. To learn more about becoming an Elite Lawyer, contact us today.
Sources:
https://www.ovclawyermarketing.com/online-lawyer-marketing-services/reputation-management
https://www.forbes.com/sites/learnvest/2013/11/20/10-things-you-need-to-know-about-online-reputation-management/?sh=589673e26cbb