Aviation Law Attorney Overview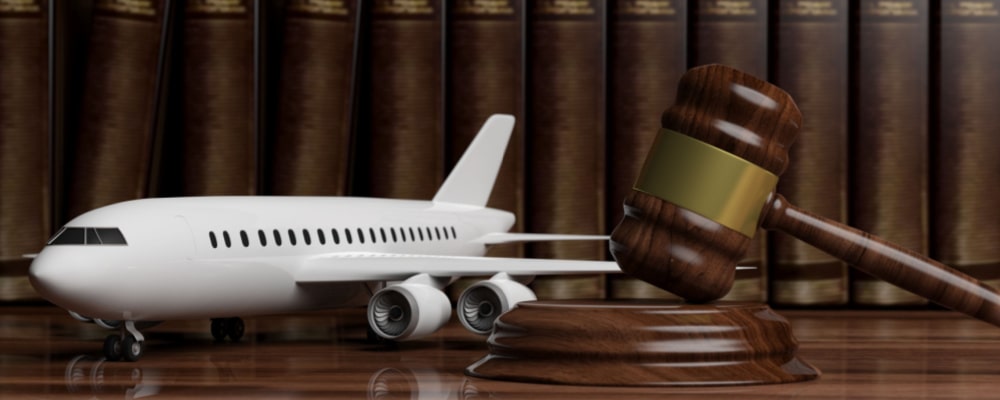 Aviation law is a field that encompasses the legal principles and regulations governing all aspects of civil aviation. It covers various areas, including aircraft operations, maintenance and repair, safety standards, licensing and certification, airline liability, and international aviation treaties. 
Key Components of Aviation Law
The purpose of aviation law is to promote safety in the skies while ensuring efficient operations within the industry. These laws are enacted at both national and international levels to regulate every aspect of aviation activities from the initial design stage to aircraft retirement. Here are some key aspects of aviation law:
Federal Aviation Administration (FAA) Regulations: The FAA is responsible for regulating all aspects related to civil aviation within the United States. They establish comprehensive regulations on aircraft design standards, pilot certification requirements, air traffic control procedures, and a variety of other regulations. They also oversee environmental policies concerning noise pollution or emissions reduction measures.
International Civil Aviation Organization (ICAO): This specialized agency under the United Nations sets global standards for safe and orderly conduct in international civil aviation through its Chicago Convention. Many countries adopt ICAO guidelines into their domestic legislation as part of their commitment to ensuring safe airspace globally.
Airline Liability: Aviation law governs matters related to airline liability when it comes to passenger injuries or wrongful deaths due to accidents during flights or other incidents such as lost luggage claims or denied boarding compensation disputes.
Aircraft Accidents Investigation: In the event of an aircraft accident with significant consequences, the registered carriers' resources take over the investigation, working closely with the respective government agencies involved, so that appropriate recommendations are made. 
Aircraft Financing and Leasing: Aviation law covers the legal aspects of aircraft financing and leasing, including complex agreements between airlines, lessors, and financiers for acquiring or leasing aircraft. It involves drafting contracts, negotiating terms, and ensuring regulatory compliance within the transactions to guarantee that parties' interests are adequately protected.
Drone Regulations: With advancements in drone technology rapidly expanding its applications both recreationally and commercially, aviation lawyers stay up to date with evolving regulations about drones, such as safety policies, airspace restrictions, and privacy-sensitive operation areas.
Employment Law in the Aviation Industry: Legal issues arising from the relationship between airline companies and their employees fall under this category, including discrimination claims, wage disputes, and labor impasses.
How an Aviation Attorney Can Help 
An experienced aviation attorney is crucial for individuals or organizations involved in the aviation industry to navigate through complex legal matters effectively. Here are a few ways they can provide valuable assistance:
Regulatory Compliance: An aviation lawyer ensures compliance with extensive local and international laws governing aircraft manufacturing, safety standards, pilot certification requirements, air traffic control procedures, and licensing issues related to airlines and airports.
Contract Negotiations: Attorneys experienced in aviation law can provide advice on drafting and negotiating various contracts such as aircraft purchase agreements, lease arrangements, or service-level agreements between airlines and suppliers.
Accident Investigation Support: In the case of a commercial aircraft accident resulting in loss, damage, injury, and wrongful death, an attorney will work with individuals and organizations to ensure all parties are following the proper guidelines and working towards a solution.
Insurance Claims Handling: Experienced attorneys guide individuals and entities seeking insurance claims coverage.
Employment Issues Resolution: Aviation attorneys resolve employment-related disputes such as wrongful termination claims, and labor impasses involving pilots or other staff members, and ensure proper compliance with all applicable labor laws.
Defense in Litigation: When legal disputes arise between parties like aircraft manufacturers, airlines, or maintenance companies, aviation lawyers provide representation to protect their clients' interests through settlement negotiations.
Aviation law is a complex and dynamic field that encompasses numerous legal principles and regulations tailored specifically for the aviation industry. Securing an experienced and knowledgeable aviation attorney can be instrumental in navigating these complexities while ensuring compliance with the various regulations governing civil aviation.