2020 Elite Lawyer Scholarship Honorable Mention
Fiza Kuzhiyil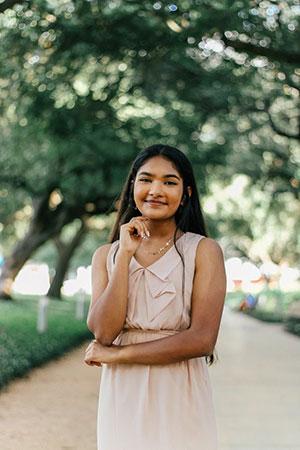 At Elite Lawyer, we offer a scholarship each year to recognize students who are passionate about making a difference in the community. In 2020, we asked applicants to submit an essay or video addressing what they learned about themselves through the challenges of the COVID-19 pandemic. Fiza Kuzhiyil's essay stood out from an impressive field of applications, and we are pleased to honor her with an honorable mention recognition.
Read Fiza's Essay:
A Raceless Racehorse
"Life moves pretty fast. If you don't stop and look around once in a while, you could miss it," Ferris said.
I snatched the remote out of my brother's hands and flipped the TV off.
"I don't have time for this," I told my brother.
"You don't have time for Ferris Bueller's Day Off?" he said.
I just got into my dream school of UT Austin and my brother wanted to celebrate by watching a movie, but I was too busy to celebrate. I opened a blank page of my journal and wrote down my to-do list for the upcoming state debate tournament and the color guard state contest. I thought I could celebrate my triumphs after I achieved more goals.
The next day, I hopped on a plane as I chased a debate state championship. A week later, I hopped off the plane back home with my teammate holding a state championship trophy. Still, I didn't have time to celebrate. I was already chasing color guard state championships.
Throughout high school, I was a racehorse chasing goals. Chasing another milestone. Chasing, chasing, chasing.
Until the virus hit. Coronavirus had been lurking for months now, but my racehorse blinders hid the virus in my peripherals. Slowly, but surely, the virus crept into my town and shut down everything. Officials cancelled the color guard contest. The school board cancelled classes. My principal cancelled prom and graduation. I always waited to celebrate high school after all my races were won, but suddenly, I was a race horse without a race to run.
My journal pages where I once put to-do lists became a place for me to look around and write down my feelings. As I began writing, I learned something about myself that I was once blind to: I am privileged.
I once cringed at the word privilege. Growing up in a single-income immigrant household, I never felt privileged. However, when the economy crashed and millions of Americans lost their jobs, I realized the privilege in my family's stable income. I realized the privilege in attending a world class university even if it meant taking out loans to attend. I realized the privilege of having a simple roof over my head. Even though I was a racehorse without a race, at least I had a stable to keep me safe.
By recognizing my own privilege, I decided I wanted to help the underprivileged. I didn't have money to give away, but I had creativity, some craft supplies and a lot of time on my hands. I began making stickers for my friends and family who in turn donated to a local bail fund to actively help those who can't pay bail. In just a month, I encouraged hundreds of dollars in donations. I once dreamt of being a lawyer to help lower class criminals get a fair trial, but now I actively help the cause with the resources I have.
Once you look around and acknowledge your privileges, you can use them to help people in ways you never would have thought of before. I will still work towards my long term goal of attending law school, while also actively raising money to evoke change in the now rather than the later.
Though I may be a racehorse stuck in a stable, I will use the resources in my stable to help others. And when I can race again, I will take the blinders off and look around because "life moves pretty fast. If you don't stop and look around sometimes, you could miss it."