Motorcycle Accident Attorney Overview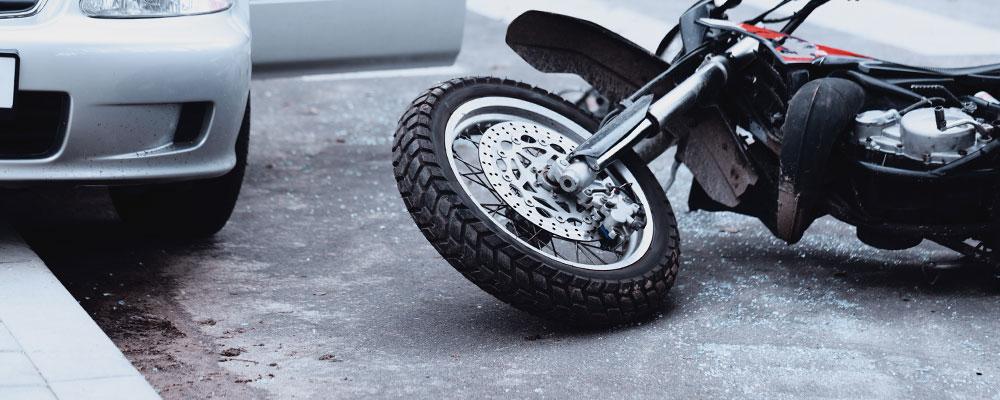 Lawyer Representation in Serious Injury Cases
Car accidents can be dangerous and deadly for anyone, but motorcyclists are much more likely to be seriously injured in a collision than the drivers or passengers of cars and trucks. Motorcyclists who are injured because of the negligence of another driver should be sure to understand their options for recovering compensation.
If you have been injured in a motorcycle accident, you should contact an experienced personal injury attorney as soon as possible. A skilled lawyer can assist in determining liability for your injuries and help you understand your best options for obtaining compensation for the damages you have suffered.
Causes of Motorcycle Accidents
Motorcycle crashes occur for a wide variety of reasons, including:
Visibility - Due to the smaller size of motorcycles, drivers often fail to see cyclists who are around their vehicle or in their blind spots. This can lead to accidents which occur when a driver strikes a motorcycle while changing lanes or making a turn.
Failure to yield - Motorcycle accidents often occur because other drivers violate their right of way at intersections or when merging.
Road hazards - Potholes, road construction, oil slicks, and weather conditions such as rain, snow, or ice can be very dangerous for motorcycles, causing cyclists to lose control, especially at high speeds.
Drunk driving - When people drive while impaired by alcohol or drugs, their reaction times are slowed considerably. When combined with the difficulty of seeing motorcycles on the road, this can lead to deadly collisions.
Distracted driving - Drivers who use a cell phone while driving or take their attention off the road are less likely to see motorcycles and more likely to cause an accident.
Common Motorcycle Accident Injuries
Motorcyclists are very vulnerable to harm in a motor vehicle collision, and they often experience serious injuries, including:
Traumatic brain injuries which can cause cognitive impairment and problems with memory and concentration
Neck and spinal cord injuries that can result in paralysis
Broken bones
Injuries to joints, including shoulders, elbows, and knees
Severed or amputated limbs
Bruises and contusions
Severe lacerations and abrasions
Significant scarring and disfigurement
If you have been injured in a motorcycle accident, you may be facing significant damages, including large medical bills, ongoing rehabilitative care, disability, lost wages while recovering from your injuries, impairment to your ability to earn an income, and physical and emotional pain and suffering. If your accident was caused by someone's negligence, you deserve to receive compensation that will address these damages and allow you to make a recovery. A skilled personal injury lawyer can help identify liable parties and work with you to help you receive the financial compensation you need.